The high court of Bombay at Goa, in an interim order ruled that there will be no water sports activities at Coco Beach, Nerul, till November 15.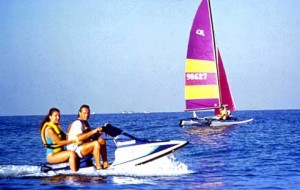 There are 23 water sports operators and 36 water sports vehicles doing business at Coco Beach. The court ruling has come after a case was filed by one Cajetan Pereira of Nerul who said that he was restrained by the Coco Beach Tourist Boat Association from carrying out his water sports business at the beach.
The government, which regulates the licencing of water sports activities in the state, told the court through the tourism department that in order to control and regulate water sports activities along the beaches of North and South Goa, the government had taken a decision to set up a kiosk system through the Goa Tourism Development Corporation.
The government also informed the court that licences to operate boats at Coco Beach will be effective from November 15. "The statement made is accepted and taken on record. It is made clear that till November 15, 2009, there will be no operation of the boats," the high court ruling stated.