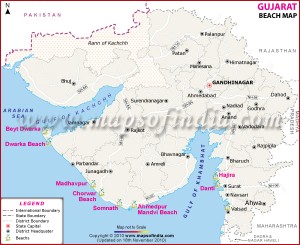 Gujarat has the longest coastline in India. As a result, the state and its neighboring Union Territories offer a wide range of beautiful beaches. These beaches are the finest in India and attract a huge number of tourists every year.
The pristine waters, soft sands andrich flora and fauna are their main attractions. You can relax and unwindamidst the natural serene surroundings. It's a promise that your trip to these exotic beaches of Gujarat will provide you with an unforgettable experience. Apart from this, the towns located near the beaches have immense possibilities for sightseeing. They house a number of historical forts, palaces, churches and museums worth seeing.
Ahmedpur Mandvi Beach
147 km from Junagadh, 98 km from Veraval.
The Ahmedpur Mandvi Beach is one of Gujarat's best coastal stretches. It faces the island of Diu across a creek and, with its continuation as Ghogla Beach into the adjoining part of mainland Diu, it measures about 6 km long. The beach is excellent for swimming and water sports and is dotted with several vibrant fishing hamlets.
Gopnath Beach
Gopnath Beach is situated in the Bhavnagar district of Gujarat. It islocated on the coast of the Gulf of Kambhat, at a distance of 75 kmfrom the city of Bhavnagar. Gopnath is a pristine beach known for itsnatural beauty.
Umbergaon is a small city situated in Valsad district in the Indian state of Gujarat. And is nearly to the border of the state of Maharashtra. The Atmosphere of this beach is very quit and calm. It is best for Relaxation and Meditation.
Tithal Beach
The beach of Tithal is located at a distance of 108 km from Surat and 5 km from the city center. The best season to visit the beach is during the months of October to March, when the weather is very pleasant. Tithal beach is within easy accessibility at a distance of 4 kms from bus station. The Tithal Beach is flat and sandy and not rocky like some of the other Gujarat beaches. It is a delight for all the sea lovers as they can take cool dips here.
Chorwad Beach
Chorwad Beach of Gujarat is another splendid beach situated on thewest coast of India. It is situated at a distance of 66 km from Junagadh.Chorwad has a high potential of attracting both domestic as well asinternational tourists. The beach constitutes of rocky hills and presentsopportunity for thrilling boat rides.
Diu Beach
Diu beach is situated off the Saurashtra coast and is connected to thestate of Gujarat via a causeway. Diu is a secluded island and does nothave much population. This makes it the place ideal for a serenevacation, away from the worries of daily life.