Konark Festival 2013
Experience the Rhythm, that binds India together!
At Open Air Auditorium, Konark Odisha
December 1st – 5th, 2013, 6pm to 8:30pm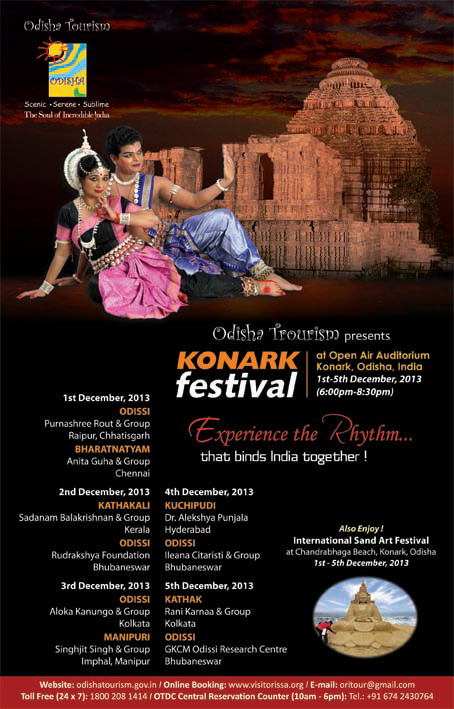 Konark Dance & Music Festival was first started in the year 1986 at Konark Natya Mandap, Arka Vihar, Konark by Padmashee Guru Gangadhar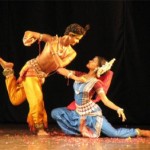 Pradhan. Konark festival helds from February 19 -23 every year at open stage at Konark temple under the natural ambience of casuarina and cashew trees with spiritual and aesthetic flavour. You can get feel of the contemporary festivals of Orissa. The main objective behind this dance and music festival is to embrace many artistes into its cultural family which aims at the international cultural amity and brotherhood. Each year eminent artistes of national and international repute participate and perform Odissi, Kathak, Bharatnatyam, Kuchipudi, Manipuri, Mohiniattam and other classical, folk & tribal dances of India at Sun Temple, Konark.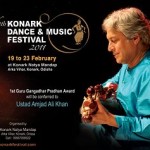 Interested artists for participation can contact below mentioned address with application. The Director Konark Dance & Music Festival 64 Kharavel Nagar, Unit III, Bhubneswar 751001, Odisha May 31, 2010 at 4:56am ·
26th Konark Dance and Music Festival 2011 was held on February 19 – 23, 2011 Konark
Konark festival 2011 programme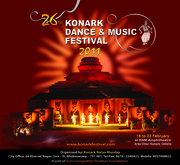 19.02.2011(Saturday) Sarod Recital – Ustad Amjad Ali Khan Kuchipudi Dance (Group) – Kala Krishna and troupe (A.P) Sambalpuri Dance – Gopal C Mohapatra Troupe, Orissa
20.02.2011(Sunday) Carnatic Violin Recital – T.N. Krishnan Odissi Dance (Group) – Konark Natya Mandap, Konark Bihu Dance – Assam Bihu Dance Group, Assam
21.02.2011(Monday) Tabla Recital – Pt. Vijay Ghate (Mumbai) Kathak Dance (Group) – Nadam, Bangalore Rajasthani Folk Dance – Rajasthani Folk Dance Group, Rajasthan
22.02.2011(Tuesday) Odissi Vocal (Solo) – Guru Binod Bihari Panda, Bhubaneswar Bharatanatyam (Group) – Nrityakalamandiram, Bangalore Gotipua – Konark Natya Mandap, Konark 23.02.2011(Wednesday) Flute Recital (solo) – Pt. Ronu Majumdar,Mumbai Odissi Dance (Group) – Nupur, Bhubaneswar Chhow Dance (Group) – Purulia, West Bengal Special guest: Dr. Balamuralikrishna (Carnatic music maestro) Subha Sankha Dhwani & Mangal Vadya – Rajendra Mohapatra Group, Ganjam Panchadeva Stutee – Nrutyalaya, Nimapara Gangadhar Vandana – GGP Foundation, Bhubaneswar. (as inaugural part of the festival)