OTDC Panthanivas is a budget Govt. hotel located on heart of southern Chilika Lake. You can avail online hotel reservation according to travel plan and budget. Accommodation at OTDC Panthanivas Satapada starts from Rs 550 to Rs 2050.
Address: Satapada, Via – Brahmagiri, Puri, Odisha, 752011
Phone: (06752) 262077
Email: otdc @ panthanivas.com
Panthanivas Satapada is located at a distance of:
120 Kms from Bhubaneshwar Airport
55 Kms from Puri Railway Station
53 Kms from Puri Bus Stand
Amenities: The amenities provided by the OTDC Panthanivas are Doctor on call, Boating,  Car rental and more.
Travel Desk
Laundry
Doctor on Call
STD/ISD Phone
Breakfast
Continental Breakfast
Cable Television
Car Rental Desk
Free Newspaper
Smoke Detector
TV Remote Control
Facilities
Total Room / Bed : 28 / 56
Room Type
Suite
A/C Double Room
Non-AC Double Room
AC Conference Hall
Checkin Time: 08:00 Hrs
Checkout Time: 08:00 Hrs
Dolphin Motor Boat Association Satapada Rate Chart
Here is the rate chat of the Boat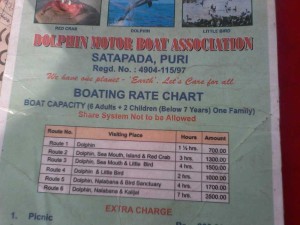 Dolphin Sight Seeing ( 1 hour )     Rs 400
Dolphin Sight Seeing & Sea Mouth island ( 3 hour )     Rs 700
Nalaban Bird Sanctuary & Dolphin Sight ( 4 hour )     Rs 1000
Kalijai, Dolphin Sight & Nalaban Bird Sanctuary ( 7 hour )     Rs 1200
Barakul, Dolphin & Nalaban Bird Sanctuary ( 8 hour )     Rs 1300
Little Bird, Sea Mouth, Dolphin     Rs 1000
Binocular    Rs 50
Extra charge for Picnic Rs 100
Picnic & Night Halt Rs 200
Per Member Rs 50
Travel Tips:
You can book the entire boat and boat ride in the early morning and enjoy glimpse of dolphins in the lake.
Ask for discount. You can get upto 20-30% discount on rates mentioned in the chart
There are touts and unauthorized boat associations. They charge Rs1800 to Rs 2500 per trip, which is illegal.
Check condition of the boat, safety measures, availability of life jackets before booking your boat rides.
Book your hotel 2 to 3 month in advance. Early Morning and late Evening Checkins/outs can be arranged. Please request in the additional requirements while booking at Panthanivas.
One or two days are sufficient to visit local sites, boat ride and enjoy Chilika Lake.
Yatri Nivas Hotel Satapada Map

View Larger Map
Send Travel/Reservation Enquiry