Tamil Nadu is a safe, all-season destination for tourists. It has much to offer – hill stations, beaches, temples, world heritage monuments, archaeological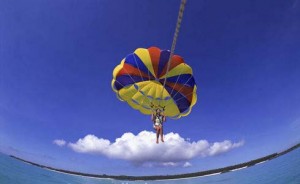 sites, wildlife parks, botanical gardens, amusement parks, and so on. In December, Chennai, the State capital, comes alive with a festival of music and dance programmes organised by "sabhas" across the city. In January – during the Pongal season – the week-long Chennai "Sangamam", a festival of folk music and dance, street plays, and martial arts, is held in the public parks in the metropolis.
Tamil Nadu Tourism is now focussing on popularising lesser-known destinations so as to decongest some of the popular destinations. As a result, places such as Yelagiri in Vellore district, Kolli Hills in Namakkal district, Taramangalam in Salem district, Pulicat and Periapalayam in Trivellore district, Sithannavasal in Pudukottai district, Valparai near Coimbatore, Kazhugumalai near Madurai, Meghamalai in Theni district and Tiruppudaimaruthur in Tirunelveli district have been getting more tourists.
The focus is also on making "Tamil Nadu an adventure hub of India". Parasailing and waterskiing at Mudaliarkuppam near Chennai, and the paragliding festival at Yelagiri are a part of this endeavour. In Chennai, the "hop-on, hop-off" tours within the city and to 13 tourist spots on the East Coast Road up to Mamallapuram are a big draw. The TTDC offers an eight-day Tamil Nadu tour, a 14-day Sunny South tour, a rail-cum-road tour, and a seven-day Andhra Pradesh tour.
Of the 21 UNESCO-recognised World Heritage Monuments in India, five are in Tamil Nadu. They are the Mamallapuram complex; the Brihadisvara temple in Thanjavur; the Brihadisvara temple at Gangaikonda Cholapuram; the Airavatesvara temple at Darasuram; and the Nilgiri Mountain Railway train that runs between Mettupalayam and Ooty.
Tamil Nadu Tourism has brought out a booklet on Jaina monuments in the State. Among the sites mentioned are Tiruparutikunram near Kanchipuram, Vallimalai near Vellore, Tirunathar Kundru and Melsithamur near Gingee and Tirumalai near Arani.