Update Nov 28, 2013:
According to IMD, the cyclone Lehar weakened into deep depression as it crossed the coast near Machilipatnam in Krishna district. It is likely to weaken further.
The deep depression triggered rains in Krishna, Guntur, Prakasam, East Godavari and West Godavari districts. Winds with the speed 50-60 kmph would prevail along and off Andhra Pradesh during next 12 hours, said an IMD bulletin.
Nov 25, 2013:
Cyclone Lehar will hit AP coast in next 4 days. It has been clasified as number 3 on 5-step Saffir–Simpson hurricane wind scale for its strength. This will be the 3rd cyclone current season in eastern region after Phailin and Helen.
Its present location in Bay of Bengal is 10.9N 266.7E with WNW at 13 mph. According to initial IMD forecast it will intensify gradually into a very severe cyclonic storm.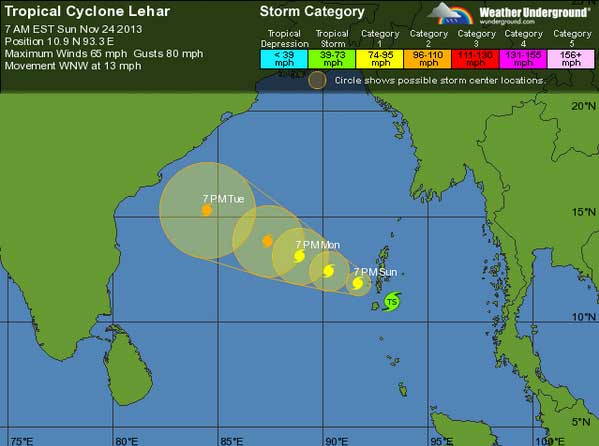 The direction will be west-north-westwards and hit Andhra Pradesh coast betwwen Machillipatnam and Kalingapatnam on coming Thursday noon.
The warning predict extensive damage to kutcha houses. There can be potential threat from flying objects due to heavy wind. Power supply and mobile communication can suffer due to very severe storm. The storm can bring about widespread damage to standing crops plantations and orchards.
Storm surge of up to two metres may get generated and distances of up to 10 km at a stretch get inundated in specific areas.
During next 4 days fishermen, farmers and locals should be geared up to face the severe cyclonic storm and take help from concerned Government officials. There will be daily update from IMD regading movement for cyclone 'Lehar'.