For sustainable management of all wetlands of Orissa, Orissa Government is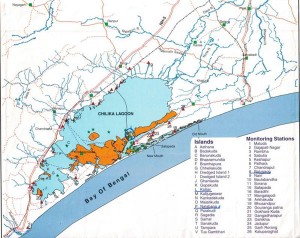 constituting a State Wetland Management Authority, a first of its kind in the country.
Announcing this at the Management Planning Workshop of Chilika Lake here, Chief Minister Naveen Patnaik said the State Government is also working in collaboration with the Ministry of Environment and Forests to establish an institute on management of wetlands and coastal ecosystem.
The Wetlands International South Asia (WISA) is currently formulating the management plan on Chilika with support from Chilika Development Authority (CDA).
The plan, now in draft stage, was laid for consultation before experts of national and international repute during the workshop.
After inaugurating the workshop, Naveen suggested some important issues to be incorporated in the plan. Check of silt flow into the lake through proper catchment treatment should be given utmost priority in the management plan.
It should be extended to Mahanadi basin as 90 percent of the silt flow into the lagoon is from Mahanadi river system.
The Chief Minister was of the view that both eco tourism and biodiversity conservation should be accorded priority in the management plan.
Destructive fishery practices and freeing the lagoon from prawn gheries need attention, he said.