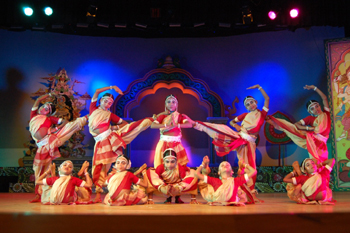 The Gotipua Dance Festival 2011 has started in Rabindra Mandap of Bhubaneswar Orissa from Tuesday. Orissa tourism is the main organiger. Gotipuas of Konark Natya Mandap and Chandrasekhar Gotipua Kala Sansad from Brahmagiri mesmerised the spectators with their striking acrobatic and yogic postures on the inaugural evening.
The three-day festival being organised by Guru Kelucharan Mohapatra Odissi Research Centre (GKCM-ORC) will feature eight troupes this year, said Ramahari Das, the Chief Executive of the centre. Addressing the gathering after inuagurating the festival Das said "through this annual festival, we intend to provide an exclusive platform and patronage to our marginalised Gotipua artistes."
The festival will further feature interactive sessions among the Gotipua artistes and exponents on Wednesday and Thursday.
Gotipua dancers – the adolescent boys who dance dressed as girls – from Natyamber, Nakshyatra Gurukul, Laxmipriya Gotipua Nrutya Kendra, Dashabhuja Gotipua Nrutya Parishad, Orissa Dance Academy and Nilakantheswar Gotipua Gurukul will perform during the festival.
The groups have been selected by a 11-member committee of eminent artistes, art critics and government officials. "A detailed survey was undertaken by the committee about the Gotipua troupes existing in the State before finalising the eight troupes," said Aruna Mohanty, eminent Odissi dancer and member of the committee.
The festival will provide a unique opportunity to document the dance form in its myriad moods, Aruna said, adding that the festival would be converted to an annual event considering its popularity.