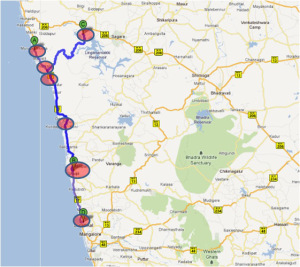 The special coastal project plan may help the state Karnataka to tap the potential of coastal tourism for all round development. Under the plan 41 beaches and some islands along the 320 km coastal line of Karnataka – from Karwar to Mangalore- have been identified for development in near future.
In year 2012, the Union ministry of tourism appointed the IL&FS (Infrastructure Development Corporation Ltd (IL&FS IDC) as a national-level consultant for the identification of tourism circuits or destinations in the states and union territories (excluding states in the North East) for implementation in the 12th Five Year Plan.
The identified circuits or destinations are proposed to be developed in an integrated manner with financial assistance from the Central government supported by appropriate involvements of the state governments and the private sector. The Interim Report by IL&FS – Priority Circuit Karnataka had identified "Coastal Karnataka tourism circuit comprising tourism destinations in and around Mangalore, Udupi, rest of Dakshina and Uttara Kannada along the coastline extending up to Goa."
In its SWOT analysis, the report presents a better picture as far as the strengths are concerned. It mentions that Mangalore, the primary hub, enjoys good connectivity with the domestic and international destinations via air, rail and road.
Most of the tourism destinations in coastal circuit also have good connectivity with Mangalore and the support hubs such as Udupi and Karwar. It also looks at the road network and indicates that NHAI is already upgrading the national highway from Talapady to Kundapur to a four lane road which would serve a significant portion of the circuit.
The report also indicates that a significant tourist inflow is already present in many of the tourism destinations and the diversity and quality of tourism assets in terms of beaches, scenic destinations, backwaters, wildlife sanctuaries and adventure tourism and historical monuments are plenty.
The report on opportunities is also encouraging. The report says that there is significant potential for development of beach tourism, given that Karnataka shares the same coastline with Goa and Kerala.
It also mentions about prospective for promotion of backwater tourism. However, it notes that it is in a budding stage in Karnataka.
Observing that significant interest in the private sector for tourism projects especially near the coast, it says growth of coastal tourism will enable better economic opportunities for the people living on the coastal side.