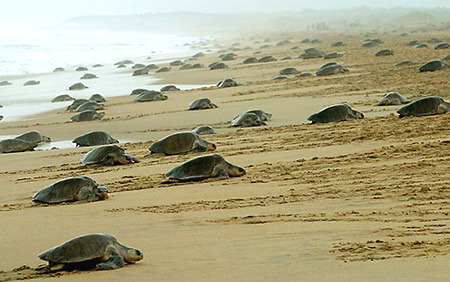 Around 69,722 Olive Ridley sea turtles, mainly found in the warm waters of Pacific and Indian Oceans, have arrived at the Gahirmatha beach to lay eggs. An estimated 69,722 female turtles were spotted digging pits on the sandy nesting ground for laying eggs in the past 48 hours.
It is an annual feature that thousands of these turtles descend on ashore here from the Bay of Bengal to lay eggs. Local authorities have set up camps at the nesting sites to protect the endangered turtles.
The process of nesting here begins in November when almost half a million Olive Ridley turtles swim across the oceans to arrive and gather in the shallow coastal waters off Odisha. They begin to reach ashore between December and March.
March is the time they lay eggs and most hatchlings emerge by May. The Olive Ridley sea turtles are considered endangered mainly because of the shrinking nesting sites in the world.
The eastern Pacific turtles have been found to range from Baja California, Mexico, to Chile, the Pacific olive ridleys nest around Costa Rica, Mexico, Nicaragua, and the northern Indian Ocean and the breeding colony in Mexico was listed as endangered in the US on July 28, 1978.
The majority of these turtles in the Indian Ocean nest in two or three large groups near Gahirmatha in Odisha.
The record nesting was in 1991, when 600,000 plus turtles nested along the Odisha coast in one week. Even the Coromandel Coast and Sri Lanka are emerging as the nesting beaches for Olive Ridleys of the Indian Ocean.