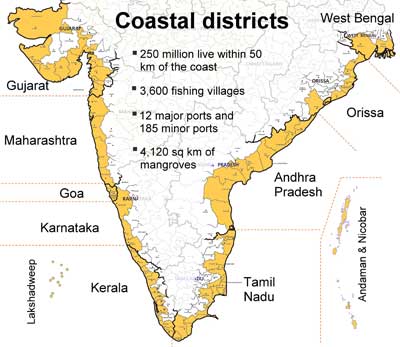 In less than a decade, more than 7% of the country's coastline has eroded due to rapid development activities. The 7,500 km Indian coastline is packed with 1,262 settlements, 1,023 structures, 143 existing ports and another 76 proposed ports. Within 10 km, there are 27 power plants and another 59 proposed power plants.
"Huge development along the coastline is eroding the sea and affecting coastal environment and biodiversity at a scale that is unsustainable and untenable," said Sudarshan Rodriguez from the Tata Institute of Social Sciences, Deonar.
According to the Coastal Protection and Development Advi-sory Committee, the extent of sea erosion along the 5,422.6-km mainland coastline has increased sharply from 22.4% in 2004 to 29.96% in 2012.
With 40% of its coast eroded, Maharashtra is the fourth longest stretch of degraded coast after Karnataka, Kerala and West Bengal.
TISS along with the National Coastal Protection Campaign, Pondy Citizens' Action Network and the Bombay Natural History Society released a report 'The Challenged Coast of India' at the ongoing 11th meeting of the Conference of Parties-Convention on Biological Diversity in Hyderabad.
"Ports, harbours and other coastal structures directly modify the coastline and its habitats, and with so many new projects in the pipeline, the danger that we will be left with very little of the natural and healthy coast is real," the report states.
According to the report, settlements, sand mining, large developments such as ports, power plants and allied industries on the coastline are responsible for erosion.
Construction of coastal structures such as sea walls meant to protect the beach, harbour, port or shoreline also results in erosion on either side of the coast.
"The government's response to erosion has been building structures seawards to protect the shore instead of taking measures to arrest coastal degradation," said Rodriguez.