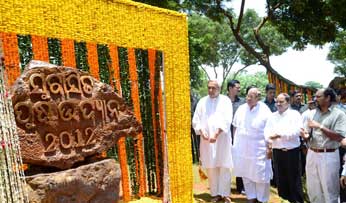 The temple city added a new and unique spot in its tourist map, which is not only a visual beauty but also provides olfactory pleasure. Chief minister Naveen Patnaik on Wednesday inaugurated a fragrant flower garden on the premises of Regional Plant Resource Centre (RPRC) botanic garden in a landscape format here. The garden spread across in 3.5 acres of area has more than 70 varieties of aromatic flowers.
"This flower garden will add to the specialty of the resource centre and group of plants have to be created to provide space for education and research. The garden will have round the year bloom," said director of RPRC, A K Mohapatra.
The fragrant flower garden housed wild and cultivated species and varieties of plants which have distinct scent with special emphasis on wild plants of Odisha. "There are many aromatic flowers we have heard of but never get a chance to smell the flowers. Here we have included flowers from across the state and outside," he said.
The most popular ones include Champa, Tuberose, Jasmines, Magnolias, Ginger Lily, Canon Ball tree, Trumpet flower, Yesterday-today-tomorrow, Queen of the night, parrot tree and so on.
"This collection will be enriched from time to time and RPRC envisages making this the single largest assemblage of fragrant flower plant species in India and elsewhere," Mohapatra added. Besides, serving the cause of germplasm conservation the garden will promote research on aromatic plants, perfumery industries besides education and awareness among the general public.
RPRC also boasted largest collection of 1050 varieties of cacti, 350 varieties of roses, 93 species of wild orchids, 59 species of palms, 106 varieties of wild edible fruit plants, 38 species of bamboos, 31 species of rare and endangered plants, 300 species of medicinal and aromatic plants besides many other rare species and ornamental plants.