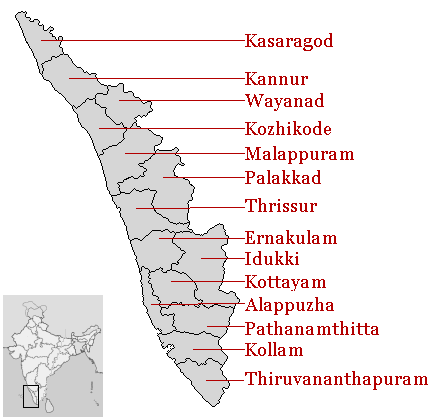 The Kerala Tourism Department will showcase a host of projects at the state's global investor meet 'Emerging Kerala' to be held in Kochi on September.
Latching on to its tourism policy that ensures hassle- free clearance to investment proposals, Kerala Tourism would be looking for big-ticket foreign investments during the global connect initiative, a release by the state's Tourism Department said.
Identified as one of the key sectors to propel 'God's own country's' economic growth, tourism would be high on the agenda when investors across continents come down to the three-day event, to be inaugurated by Prime Minister Manmohan Singh on September 12, it said.
The state government has unveiled a policy that would upgrade tourism infrastructure and involve people's participation in a bigger scale, Kerala Tourism Minister A P Anil Kumar said in the release.
The projects looking for steam from the private sector include a state-of-the-art hotel at the upcoming world-class Edu Health City at Panakkad and a boat club at Thirurangadi, both in Malappuram district, adventure sports arena at Vagamon, a mist valley resort and spa and a Spice Valley Resort at hirange Idukki.
An underwater aquarium at Arookutty in coastal Alappuzha also being planned, besides a marine leisure island at Dharmadom in Kannur and a botanical garden & forest lodge at Nelliampathy in Palakkad district, the release said.
Since infrastructure development is a priority area, the Department would prepare plans for major destinations in association with related departments, Kumar said.
The state's Tourism Policy targetted an annual growth of 15 per cent in foreign tourist arrivals and seven per cent in domestic arrivals. In numbers, it would be 3 million foreign and 18 million domestic tourists by 2021.
In 2011, 7.32 lakh foreign tourists visited Kerala as against 6.59 lakh the previous year, registering an 11.18% growth. The domestic tourist arrivals to the state were around 93.8 lakh in 2011 vis–vis 85.9 lakh (9.15% growth) in 2010.
The policy-2012 also identified Ayurveda, backwaters, adventure tourism, eco-tourism and medical tourism as special products.
According to Tourism Secretary Suman Billa, a fast-track clearance system would be put in place for projects with investments of over Rs 10 crore coupled with incentives, subsidies and other assistance.