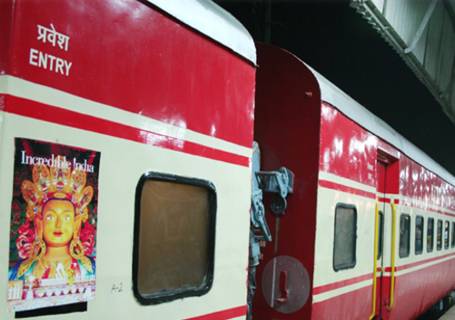 Odisha Tourism to sign MoU with IRCTC over extension of inter-state special Buddhist train Mahaparinirvan Express to the state.
Mahaparinirvan Express will run as a joint venture between the state-run Odisha Tourism Development Corporation (OTDC) and Indian Railway Catering and Tourism Corporation (IRCTC). This was informed by the OTDC General Manger Manoranjan Patnaik who is in New Delhi to formalize the tie up with IRCTC.
The Budhist sites like Lalitgiri, Khandagiri, Udayagiri, Chadragiri and Ratnagiri will be included in the tour itinerary of the Buddhist express.
He said on commencement of this service Budhist sites in Odisha will be connected with Bdhist spots in Gaya, Varanasi, Gorakhpur, Kasinagar, Lumbini, Agra and Delhi. It should be noted that at present, the Buddhist circuit special train covers most parts of Bihar, Uttar Pradesh and Delhi, connecting several Buddhist sites in Bodhgaya, Nalanda, Rajgir, Sarnath, Gorakhpur, Khushinagar, Gonda, Sravasti and Agra.
The entire tour takes seven nights and eight days. Under the package, pilgrims are also taken to Lumbini in Nepal by bus from Khushinagar, sources said. Odisha has a lot many Budhist treasures for tourists coming from different states and aboard.