India Surf Festival, scheduled for February 7-9 at Odisha's Puri-Konark Marine Drive beach, is expected to draw as many artists, filmmakers, musicians and photographers as professional surfers. A Chinese surfing filmmaker, a band from Australia, hippies, and of course, travelling enthusiasts from across the country, are set to congregate at what's being marketed as a celebration of surfing and spirituality.
At the India Surf Festival one can learn the basics of surfing and paddling from experts around the world. Catch up on inspiring movies, art and indulge in live musical and visual performances, with sun bathing, organic food and solar clay therapy for complete synchronization with nature.
The India Surf Festival aims to reconnect people to nature.  Music, art, live performances, films, and organic food are some of the additional activities planned.
Over 60 surfers from India, Singapore, Spain, Italy, Morocco and Brazil have signed up along with 2,000 visitors who, Sanjay Samantaray, founder of organising outfit Surfing Yogis, says, plan to enjoy the spectacle from the sands. "Surfing isn't just about being in water, it's a celebration of hard labour. Most international surfing events are about art, good photography and hi-tech filming."
A recent issue of Time magazine speaks of India's ninth largest state gradually finding a nook on world tourist maps. For India's nascent, but growing surfing industry, Odisha's still waters provide perfect support for Stand-up Paddle (SUP) surfing, offering what some see as the opportunity for paddle-based tourism. In fact, Ramchandi Beach in Konark is home to one of the country's few surfing schools, inaugurated last year.
Surfing Festival Facts
The India Surf Festival is scheduled for February 7 to 9 at Puri-Konark Marine Drive, Orissa. Nearest airport is in Bhubaneshwar. You can put up at a hotel at Puri or Konark depending on your budget. Limited tent camping facilities are available at Surfers Island.
More Information
Official Website http://indiasurffestival.com/
Surfing Yogis http://www.surfingyogis.com/
To register
Send a mail to surfingyogis@gmail.com
or Call HighOnTravel +91  88980 08988
How To Reach
Get down form Bhubaneswar Bijupattnaik airport, The Surf Fest site is 72 K.M by NH. It will take just one & half hour to reach Ramachandi Beach.
(Bhubaneswar – Pipili – Left turn towards Nimapara – Konark – Konark to Puri Marine drive – Festival site is 7 km from Konark )
Location Ramachandi Beach –  It is situated 7 km before Konark on the Marine drive road from Puri to Konark.
Accomodation
Lotus Resort Ramchandi Beach Konark ( http://www.lotusresortkonark.com ) – Located just 7 Km from Konark, Orissa. Lotus Eco Village recreates a village like simple yet modern resort, with the beach as a perfect setting to unwind, be the perfect sun worshipper and beach bum. What makes this location unique is the pristine beach and sand where one can witness the most incredible sunrise and sunsets.
Panthanivas Konark – OTDC Hotel Phone: 06758-236831 email: otdc(at)ortel.net  / otdc(at)panthanivas.com
Map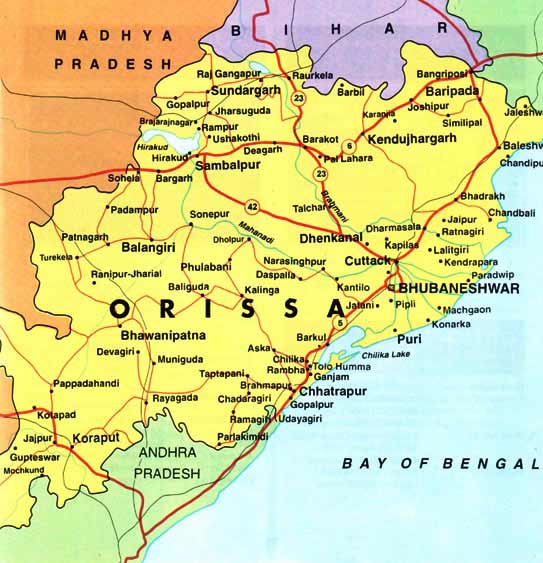 Common Surfing Terms
Air/Aerial – riding the board briefly into the air above the wave, landing back upon the wave, and continuing to ride.
Bottom turn – the first turn at the bottom of the wave
Carve – turns (often accentuated)
Cutback – a turn cutting back toward the breaking part of the wave
Drop in – dropping into (engaging) the wave, most often as part of standing up
Drop in on, cut off, or "burn" – taking off on a wave in front of someone closer to the peak (considered inappropriate)
Duck dive – pushing the board underwater, nose first, and diving through an oncoming wave instead of riding it
Fade – on take off, aiming toward the breaking part of the wave, before turning sharply and surfing in the direction the wave is breaking towards
Fins-free snap (or "fins out") – a sharp turn where the fins slide off the top of the wave
Floater – riding up on the top of the breaking part of the wave
Grom/Grommet-kid boarder (usually under 15)
Goofy foot – Left foot on back of board
Hang-five/hang-ten – putting five or ten toes respectively over the nose of a longboard
Hang Heels – Facing backwards and putting the surfers' heels over the edge of a longboard.
Off the Top – a turn on the top of a wave, either sharp or carving
Over the falls – When a surfer falls and the wave carries him in a circular motion with the lip of the wave, also referred to as the "wash cycle", being "pitched over" and being "sucked over" because the wave sucks you off of the bottom of the reef and sucks you "over the falls."
Pearl– A nose-dive.
Pump – an up/down carving movement that generates speed along a wave
Re-entry – hitting the lip vertically and re-rentering the wave in quick succession.
Regular/Natural foot – Right foot on back of board
SUP (Stand-up Paddle) – a surf style board with a paddle, used in flatwater or waves. Flat water surfing is an emerging global sport with a Hawaiian heritage. It was convenient for surfing instructors to manage large groups of students when they stood on the board, enjoying a higher vantage view.
Snap – a quick, sharp turn off the top of a wave
Snaking/Back-Paddling – paddling around someone to get into the best position for a wave (in essence, stealing it)
Shoulder – the unbroken part of the wave
Stall – slowing down from weight on the tail of the board or a hand in the water
Switch-foot – having equal ability to surf regular foot or goofy foot — like being ambidextrous
Tube riding/Getting barreled – riding inside the curl of a wave
Take off – the start of a ride