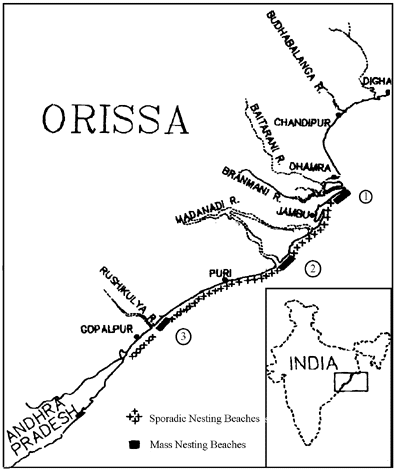 Olive Ridleys, the rare and endangered marine turtle species of the world, have started mass nesting at Rushikulya rookery in Ganjam district.
After sporadic nesting in the last week of January, over 8,000 turtles have laid eggs on the 5-km coastline from Gokharkuda to Podempeta since Monday night. Nesting continued till Tuesday morning, said Berhampur DFO Asish Behera. He added that this year, condition of the beach and weather is conducive for mass nesting of turtles.
The Ridleys usually start mating every year in the sea near their preferred nesting coast. After the end of the mating season, most male turtles return leaving behind the females to lay their eggs. While the nesting starts sporadically from January-end, the peak period is February.
Rushikulya is one of the most preferred nesting sites of Olive Ridleys. Forest department officials and wildlife experts are monitoring the mass nesting. The beach stretch has been fenced to prevent entry of stray dogs into the nesting site. Eggs would hatch in 40 to 50 days.