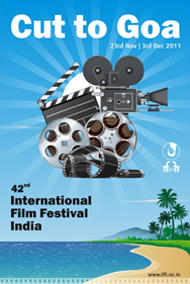 International Film Festival of India, the premier film event scheduled for November 23-December 3, 2011 will partner the ministry of tourism's initiative Incredible India.
The 42nd edition, organized jointly by the ministry of information and broadcasting and the Goa government, will work with a diversified focus of merging films with destination marketing, for tourism promotion.
Official sources stated that the 42nd edition has been conceived with a paradigm shift in the philosophy, approach and conduct of the festival with an aim to enhance the image of the event at the global level.
The revamp of the awards was initiated after an active involvement of Union I&B minister Ambika Soni. Sources stated that the minister had desired that the awards need to be reinvented and needed to be profiled higher to be recognized as one of the best film festivals of the world comparable to the Cannes Film Festival and the Berlin Film Festival.
The festival, from 2011, also aims for a large-scale public participation, to ensure inclusiveness and local flavor.
The 11-day film fiesta will have film makers from across the world, presenting their films at the festival. The festival will screen a range of films from around the world — various international award winners, film festival favorites, critics choices and box office hits in its International Competition and Cinema of the World Sections.
These films will have its India Premiere at IFFI, and most of them are likely to be attended by the respective directors, cast and crew. It will also host a number of specially curated sections like the "European discoveries", "Made in Poland" with a spotlight on the contemporary film making trends in Poland, Retrospectives on the French Doyen Luc Besson and the Australian Helmer Philip Noyce. The festival will also pay "homage" to film luminaries who passed away in 2010, including Raul Ruiz, Adolfas Meekas, Sidney Lumet, Claude Chabrol and Elizabeth Taylor.