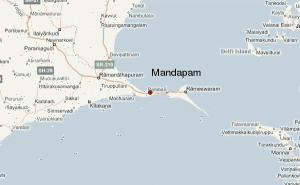 Mandapam is the main land that links the Island of Rameswaram. Rameswaram being one of the Char Dhams of Hinduism is greatly visited by the pilgrims and so also the Mandapam beach. This beach is a Gateway to many small islands. It is a quiet beach with long stretches of sand. This beach comes under the Remand district of Tamil Nadu. Most of the Pilgrims also love to spend hours on this beach as this beach is home to peaceful and serene beauty. The natural coral reefs in Mandapam are another tourist attraction. Both the foreign and domestic tourists visit this place for seeing the unique coral reef formation lying below the water surface.
Things to visit in Mandapam
Mandapam being the nearest mainland to the great pilgrimage center attracts more of the tourists. When one stays in Mandapam one can enjoy the nearby view of the other islands located adjacent to it. That enhances the enchanting effect of the place.
The place is also more enjoyed with the activities like boat riding. The local fishing communities can facilitate the travelers for a smooth boat ride. Seeing the local fishermen community and studying their life style is another attraction for the tourists at Mandapam.
An amusement park built in Mandapam keeps the children engaged. It gives the children some kind of activities. The park is home to excellent fountain, man-made coral reefs, games, artificial coral reefs and hillocks. The beach park expands over a large area and that measures about 40 acres. Due to this park, the extremely solitude Mandapam gets life.
Another attraction for the tourists is the glass bottomed boats run by the forest department. This allows the tourists to see the coral reefs raised underwater. Apart from the pilgrims and foreign tourists, the local people from the nearby areas like Ramnathpuram and Killakarai also visit the Beach Park. It is a great place for the children to spend their Sundays. People also love to take a beach walk on the beachfront which engages the visitors during the evening hours.
Reaching at Mandapam
As Mandapam is a city in Tamil Nadu, one can find buses from Chennai and Madurai to Mandapam. One can also hire taxis and cabs from Madurai to reach Mandapam. Madurai is only 150km away from this place and it can be reached by rail road. There are also rail routes from Chennai to Mandapam. It takes around 9 hrs to reach Mandapam by train if one starts from Chennai.