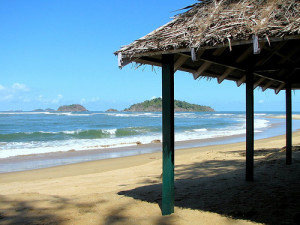 In Karnataka, the Malpe beach is located in the town of Udupi. It is only located at a distance of 6km from Udupi. It is mostly known for its amazing golden brown sand and crystal clear bluish water. It is fringed with palm trees and the palm trees below the blue skies create the most scenic beauty of the world. A visitor's vacation gets complete with the resting on the golden sand of the beach. The airy atmosphere, the golden sand, the green backdrop and the blue water, everything enchants the visitors with its natural beauty.
Enjoying the surrounding at Malpe beach
Though Malpe beach is not much suitable for bathing and swimming, people enjoy going into the water and confront the small waves. The beach usually remains crowded. The beach is famous for its islands. The islands are Dari-Bahadurgad and Kari-Illada-Kullu. These islands surround the beach. One can visit these islands and enjoy the nature laden islands of Malpe beach. There is one fort located on the Daria-Bahadurgad Island which remains a greatest tourist attraction.
Day time remains quite playful in Malpe beach.  The playful activities like parasailing, ferry riding are easily available at the beach. As this is a fishing harbor, fishing activities are also seen here on the sea. Fishing can be enjoyed on sea. The playful beach at Malpe is the one that keeps the visitors engaged throughout the day. The combination of nature and playful activities makes it a favorite place for picnicking.
A little rocky sea towards the shore makes it the most beautiful amongst all the Karnataka beaches. The natural beauty of the beach never lets the visitors down. Eating out in the beach is not very common as there are not many restaurants are located. One can find street vendors selling fishes and ice creams. Food vendors are found o this beach in many number. One can enjoy vegetarian and non-vegetarian food from these vendors.
The golden sand and clean beach of Malpe attracts many of the visitors towards it. It is generally visited between October to December. Staying in Udupi can be comfortable for the tourists as Udupi brings both the budget and luxury options for the tourists.
Reaching the Malpe beach:
Udupi is the nearest railway station. This station connects to many cities like Mumbai, Kochi and Mangalore. Mangalore is the nearest airport. One can take buses from the Udupi town to Malpe. One can get luxury buses for Malpe.