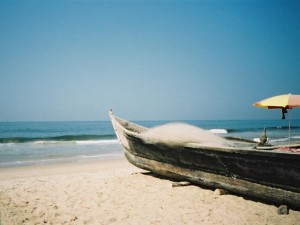 Calangute beach is the queen of all beaches of Goa. The beach is more revered and preferred for spending holidays due to the night parties and entertainments. This beach is located in North Goa and only 15km away from Panaji. A holiday visit to Calangute brings many amazing experiences to the tourists. Whether it is about spending a day or night in Calangute, every hour in this beach remains as a beautiful memory for the visitors. The day is filled with all activities and water sports. One will get enough activities to stay engaged on this beach. This palm encircled beach is mostly preferred by the foreign tourists for the dashing sun bathing. Lying on the bathing beds is a great experience that every visitor must explore.
Exploring Calangute Beach
As both the day and night keeps the tourists engaged on this beach, it is always a pleasure to have a holiday trip to this beach of Goa. The day time brings lots of activities. One can choose to experience parasailing, bathing, swimming and surfing on this beach. The sport lovers always love to explore these amazing and playful activities on this beach. There one will also find flea market that is best for buying all those handmade materials and trinkets that always adds to one's fun. Visiting to the flea market keeps one engaged during the day. Playing and visiting can be complemented with the sun bath. That is quite relaxing and revives one easily.
Eating out in shacks and small huts located on this beach is another amazing thing one can love to do on this beach. When one becomes tired, one can move to these shacks for enjoying mouthwatering local Goan food. These shacks are great for delectable sea food. Getting the shack of one's choice and having the tasty local food is a thing that should never be neglected on this beach. The presence of Kerkar Art complex on the beach is another medium that keeps the tourists engaged.
Night brings the fun alike. Night is dazzling as it has been a great place for hippie hang-out. Night brings many unique experiences to the tourists. Mostly foreign tourists love to enjoy the nightlife in the Calangute beach. Night life on this beach brings cold beer and dancing together to the tourists. Foreign tourists and locals love to dance and entertain during night.  Most of the time the foreign tourists and locals enjoy parties the whole night.
Reaching the Calangute Beach
One can catch bus form Panaji to reach Calangute beach easily. One can also hire a bike or a car to enjoy the drive by oneself. The auto rickshaws are also handy everywhere. One can hire an auto rickshaw to get at the beach.