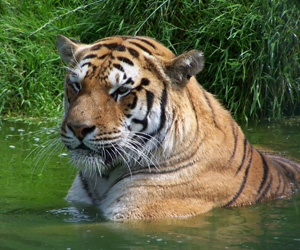 Taking note of the declining tiger population in India, the Supreme Court has banned tourism activity in the core areas of tiger reserves across the country.
"Why should tourism be permitted in core areas? Whatever statistics may say, fact remains that the tiger population in the country has practically diminished," observed an SC bench, while warning of contempt proceedings and imposition of exemplary costs against chief secretaries of five states if they failed to notify core zones in their respective tiger reserves.
A bench of Justice Swatanter Kumar and Justice Ibrahim Kalifullah gave two weeks to defaulting states — Madhya Pradesh, Tamil Nadu, Andhra Pradesh, Bihar and Maharashtra.
The restraint order will operate until the SC gives its final directions on the National Tiger Conservation Authority (NTCA) norms, which propose to phase out tourism in core zones of tiger reserves within five years.
NTCA has submitted the final guidelines before the court for approval. The SC will take up NTCA's proposal on August 22, 2012.
Welcoming the ban environment minister Jayanthi Natarajan said: "I will write to all chief ministers asking them to strictly follow the SC directive."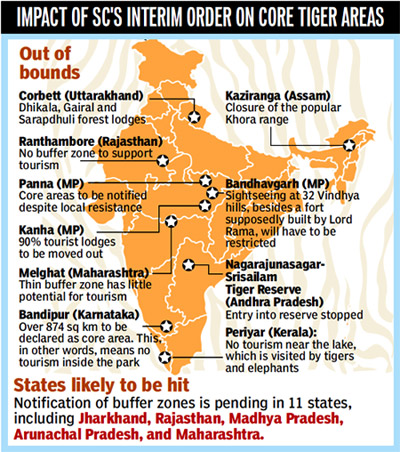 Activists and forest officials also welcomed the order. "We are going to close down all roads leading to the Nagarajunasagar-Srisailam Tiger Reserve immediately," said a top official in the Andhra forest department. Nagarajunasagar-Srisailam tiger reserve is spread over 3,386 sq km and is home to around 70 Royal Bengal tigers.
The order, however, will impact wildlife tourism. Madhya Pradesh, with the largest forest cover in the country at 77,700 sq km and six tiger reserves, will be one of the worst-hit. Tourism activities in its six reserves are restricted to core areas.
Conservationist Ajay Dubey, whose PIL demanding removal of tourism activities from core areas the court was hearing, said, "I am aware that tourists will not be able to see the best parts of Kanha or Bandhavgarh. But for the sort of pressure tourism was exerting on tigers, I think it is a small price to pay."