For the 2010 nesting season, the first arribada took place in the Gahirmatha beach in the second week of February. This beach is a protected area under the Bhitarkanika Wildlife Sanctuary.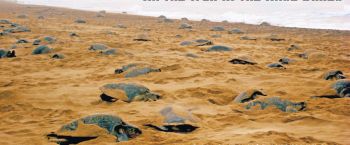 The second took place in Rushikulya between March 15 and the early hours of March 21.
This year there was a third mass nesting which began on the evening of March 20. It is estimated that around one lakh turtles nested along the Rushikulya coast between March 15 and 21. The Orissa Forest Department had made arrangements to ensure the safety of the nests, protecting them from predators by fencing the beach along the forest side of the beach and placing forest guards to deter predators during the night. The eggs are expected to hatch by the end of April, flooding the beach with baby turtles that will make their way to the sea.
One of the major nesting ground for the Olive Ridley sea turtles can be found in the Beaches of Orissa; in Devi, Gahirmatha and Rushikulya, which are known to be the nesting sites for the L. olivacea Indian Ocean population. The shore line also acts as their mating site & have attracted various scientific communities for research & studies.