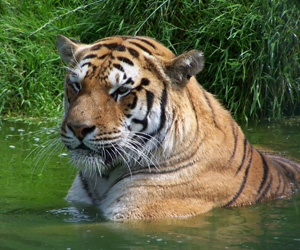 All tourist operations within 5km of all 600 plus tiger reserves, national parks, sanctuaries and wildlife corridors in the country will soon have to fork out a minimum of 10% of their turnover as " local conservation fee", which will be used not only to protect wildlife areas but also provide financial assistance to communities and people living around these green patches.
The Union environment and forests ministry has cleared ecotourism guidelines containing these provisions and submitted them to the Supreme Court in an ongoing case.
All tourism operations running in core areas of tiger reserves and other critical wildlife habitats will also be phased out in five years. Tourism will also not be allowed in any core area of a tiger reserve, where forest dwellers have been relocated. The oustees will get priority in running tourism operations in these tiger reserves, the guidelines state.
Now, the norms will be looked at by the apex court before which several tour operators have pleaded that they be allowed to run their operations in the breeding grounds of tigers demarcated as core zones under the Wildlife Protection Act, 1972.
The tiger-tourism business has been in the eye of the storm for earning crores out of 'public property' secured by ousting poor forest dwellers from the wildlife zones and in lieu ploughing back little. Some high-end hotels, located in and around tiger reserves, earn upwards of Rs 40,000 a room per night for providing the 'wild experience'. Questions have also been raised about conservationists running tourism operations adjacent to these parks and making a tidy profit, thanks to their domain expertise and access to these secure zones even as tribals and others are relocated for disturbing tranquility in these pristine areas.
The green ministry had noted that the burgeoning high-end tourist facilities around these wildlife areas in recent years triggered exploitation, degradation, disturbance and misuse of fragile ecosystems, in turn ensuring "further alienation of local people".
The norms were developed by a panel that included the member secretary of the National Tiger Conservation Authority Rajesh Gopal and director general of the Centre for Science and Environment (CSE) Sunita Narain.
However, the guidelines, accepted by the environment minister Jayanti Natarajan, suggest that small home-stay facilities run by local residents under approved ecotourism plans won't be required to share their revenues.
The state governments would be required to set up local advisory committees that would oversee the implementation of state-level ecotourism strategy in each of the national parks and sanctuaries and monitor the tourist facilities within 5km of the wildlife areas for adhering to the norms.
In the interim period of five years — even as tourism facilities are to be shifted out of the core areas of tiger reserves — the guidelines stipulate state governments to give special space to community-based tourism in certain parts. In large wildlife areas, which are over 500 square km, about 20% of its territory would be allowed to be used for community-based tourism. For smaller parks and sanctuaries, 10% of the area can be used for tourism for the interim five years.
The pilgrimages inside national parks and sanctuaries too will be regulated, and the zones will remain open only on specific days — to be decided by an agreement between wildlife and temple authorities.